Community website by MBC/Ernest Abrams. Call 808-739-9797 for advertising/sponsorship.
Kakaako - Honolulu, Hawaii
News Item

Ala Moana-Kakaako Neighborhood Board Meeting NOVEMBER 2022 Minutes
With Permission / Courtesy of
: City and County of Honolulu Neighborhood Commission Office
<!#450IMAGESTART>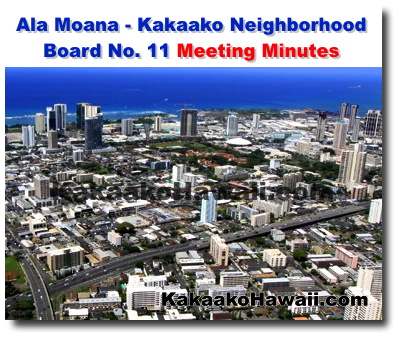 <!#450IMAGEEND>
ALA MOANA / KAKAAKO NEIGHBORHOOD BOARD NO. 11
October 2022 Minutes
DRAFT REGULAR MEETING MINUTES

TUESDAY, OCTOBER 25, 2022, 6:00 P.M.

MAKIKI CHRISTIAN CHURCH AND ON WEBEX
CALL TO ORDER: Vice Chair Lee called the meeting to order at 6:00 p.m. Quorum was established with 11 members present. (Note: This 11-member Board requires six (6) members to establish quorum and to take official Board action. Chair Tam welcomed attendees to the Tuesday, October 25, 2022 regular monthly meeting of the Ala Moana/Kaka ako Neighborhood Board No. 11 at Makiki Christian Church and on WebEx.
Board Members Present: Rodney Chang, Dyson Chee, Lori Farinas, Kim Coco Iwamoto, Kathleen Lee, Joshua Nam, Jason Wong, Melissa Wong, and Michael Zehner.
Board Members Absent: Jeanne Rice.
Guests: Casey Ferreira (Honolulu Fire Department); Lieutenant Sagucio (Honolulu Police Department); Councilmember Calvin Say; Francine Murray (HCDA); David Ho (Uraku Tower); Cindy McMillan (Governor Ige's Representative); Ronald Higa, Ryan Tam, Bishop Reyn Yoriotsuru, Rev. Quinn Hashimoto, Patrick Watson, Megan Chinn, Brandon Sekiya, Myoung Oh, Harry Cho, Representative Adrian Tam, Venus (Senator Moriwaki;s Office), Janel Denny, Caroline Faringer, Makanani Sale (Mayor Blangiardi's Representative), Marissa Kometani, Councilmember Calvin Say, Traci K. Toguchi (Residents and Guests); and Spencer Johnson (Neighborhood Commission Office). There were 34 total attendees. Note: Names are not included if not legible on the guest sheet or is a phone number on WebEx.
PUBLIC SAFETY REPORTS

Honolulu Fire Department (HFD): Casey Ferreira reported the fire statistics. Safety tips can be found at: https://fire.honolulu.gov/.
Honolulu Police Department (HPD): Lieutenant Sagucio reported the crime statistics and HPD updates. For more information, visit: https://www.honolulupd.org.
FILLING OF BOARD VACANCY: There was one vacancy in Subdistrict 3. There were no volunteers or nominations.
Election of Officers to Serve from October 25, 2022 to June 30, 2023: The officer to be elected was the Chair.
Iwamoto nominated Kathleen Lee as Board Chair, Chee seconded. Lee was elected as Board Chair by Roll Call (9-0-0) (Lee: Chang, Chee, Iwamoto, Lee, Nam, J. Wong, M. Wong, Zehner, Farinas).
Determination of First Vice Chair Position.
Iwamoto nominated Dyson Chee as First Vice Chair, Farinas seconded. Chee was elected as First Vice Chair by Roll Call (9-0-0) (Chee: Chang, Chee, Iwamoto, Lee, Nam, J. Wong, M. Wong, Zehner, Farinas).
PRESENTATIONS

Update on the Kakaako Mauka Area Rule Amendments: Presentation moved to November meeting.
Honolulu Night Market: Megan Chinn, Communications Director, Our Kakaako/Olomana Loomis ISC presented the following. The Honolulu Night Market will be held on Saturday, November 19, 2022 from 6:00 p.m. to 10:00 p.m. Events include food vendors and a fashion show.
Questions, comments, and concerns followed.

1. Food Lines: Iwamoto commented there were long food lines at the last Night Market.

2. Sinkhole: Lieutenant Sagucio reported road work on a nearby sinkhole is ongoing.
BOARD BUSINESS

Approval of the September 27, 2022 Regular Meeting Minutes
The Board approved the September 27, 2022 regular meeting minutes as corrected, by UNANIMOUS CONSENT.
Corrections: Page 1 Board Members Present: Lori Farinas was absent.
Attendance at other meetings: None.

Neighborhood Subdistrict Updates: Chee inquired about the issues at McDonald's and on Cedar Street.

Oahu Metropolitan Planning Organization Citizen Advisory Committee (CAC): No report.

Chair's Report: No report.

Treasurer's Report: NA Johnson reported information provided at the recent Conference of Chairs meeting hosted by the NCO. A one-time distribution of up to $1,000 will be offered to each Neighborhood Board for Community Outreach.
OLD BUSINESS

Discuss houseless issues in Ala Moana-Kaka ako area: No additional discussion/action.

Discuss safety concerns along Kahakai Drive: No additional discussion/action.

Consider resolution regarding intentionally generated noise pollution: This item was postponed until the next meeting.

Discuss Primary Urban Center Development Plan Update: No additional discussion/action.
NEW BUSINESS

Discuss noise issues coming from group playing amplified music at Ala Moana Beach Park: Lieutenant Sagucio commented on HPD enforcing noise complaints.
RESIDENTS' AND COMMUNITY CONCERNS: No concerns.
ELECTED OFFICIAL REPORTS

Mayor Rick Blangiardi: Makanani Sala, Director, Mayor's Office of Culture and Arts, reported the following.

Newsletter: https://www.oneoahu.org/newsletter.

CORE: CORE (Crisis Outreach Response Engagement) program was established to provide support to our homeless neighbors on OÔahu. To date, Community Health Workers (CHWs) and EMTs have responded to 310 individuals in non-emergent situations and the team has been able to redirect the need to contact emergency services for approximately 150 individuals.

Kahakai Drive: The Narcotics/Vice Division, Central Complaints Detail is aware of the complaint of illicit substance sales and will take appropriate law enforcement action as necessary. Should you have any questions or more information, please contact Acting Lieutenant Vernon Perreira at (808) 356-4432.

Illegal Parking: From October 7-17, 2022, officers made routine checks of the area for parking violations. There were no violations observed during this period. Officers will continue to conduct checks of the mentioned area and will take the appropriate enforcement action for any violations they observe.

Dead Tree: On October 11, 2022, a Division of Urban Forestry (DUF), Department of Parks and Recreation supervisor inspected one City pink tecoma tree stump at the Ahana Street side of 930 Kaheka Street in the Kapiolani area. The DUF supervisor determined that although this tree does not appear to pose an immediate public safety concern, removal is warranted. DUF anticipates tree removal work will be completed by the end of December 2022.

Rail Fare Cost: The cost to ride the rail will be the same as TheBus, using the Holo Card.

Pedestrian Safety: The Department of Transportation Services will perform an investigation at Queen and Kamakee Street, which will include a (research, site assessment, and review of the traffic collision history, etc.) and take appropriate action as warranted by their analysis and apprise the Board by the end of the year.
Questions, comments, and concerns followed.

1. Parking Meters: Chang raised concerns regarding broken parking meters along Ahana and Kaheka Street.

2. Minutes: Iwamoto commented on the Minutes reflecting detailed follow-up.
Councilmember Carol Fukunaga: No representative present. Newsletter: https://tinyurl.com/Oct2022CMFukunagaAlaMoanaNBRpt
Councilmember Calvin Say: Brandon Sekiya reported the following.

• Newsletter: https://static1.squarespace.com/static/6098c5bb75e480679bd2fab3/t/633e0b01146a657ce2a02764/1665010447655/OCTOBER+2022+Newsletter+%282%29.pdf

• Website: https://www.honolulucitycouncil.org/district-5-say
Council Chair Tommy Waters: No representative present.
State Representative Adrian Tam: Representative Tam provided a brief update and shared his newsletter. Newsletter: https://www.capitol.hawaii.gov/memberfiles/House/Tam/Newsletters/2022OctNewsletter.pdf
State House Speaker Scott Saiki: No representative present.
Senator Sharon Moriwaki: Venus reported the following. Newsletter: https://hicapitol-my.sharepoint.com/personal/senmoriwaki_capitol_hawaii_gov/_layouts/15/onedrive.aspx?id=%2Fpersonal%2Fsenmoriwaki%5Fcapitol%5Fhawaii%5Fgov%2FDocuments%2FOffice%20Shared%2FNewsletter%2FNB%20Reports%2F2022%20NB%20Report%2FNB%20Report%202022%2D10%20Ala%20Moana%2Epdf&parent=%2Fpersonal%2Fsenmoriwaki%5Fcapitol%5Fhawaii%5Fgov%2FDocuments%2FOffice%20Shared%2FNewsletter%2FNB%20Reports%2F2022%20NB%20Report
Governor David Ige: Cindy McMillan reported the following. Newsletter: https://governor.hawaii.gov/wp-content/uploads/2022/09/FINAL-OCTOBER-2022-Capitol-Connection.pdf
U.S. Congressman Ed Case: No representative present.
AGENCY REPORTS

Hawaii Community Development Authority (HCDA): Francine Murray reported the following.

Newsletter: https://dbedt.hawaii.gov/hcda/files/2022/10/October-2022-Community-Connection-1.pdf
Honolulu Authority for Rapid Transit (HART): Harry Cho announced the following.

• Dillingham Construction: HART recently awarded the Dillingham Boulevard utility relocation contract to Nan INC.

• E-Blast: To sign up for the weekly HART/Frank V. Coluccio CCUR III eblast updates: http://eepurl.com/h1g2W5
Honolulu Board of Water Supply (BWS): No representative present.
ANNOUNCEMENTS

• Certificate Presentation: For Ryan Tam's service to the NB11 with six years as Board Chair.
The Board approved a certificate for former Chair Tam by Unanimous Consent.



• Covid-19 Vaccines: Find a vaccine provider near you at https://www.oneoahu.org/find-vaccine

• Permit Reviews: Development proposals that require neighborhood board input are posted at: http://www.honoluludpp.org/ApplicationsForms/ZoningandLandUsePermits/NeighborhoodBoardMaterials.aspx

• Hawaiian Electric Community Meetings: hawaiianelectric.com/communitymeetings for Resilient and Renewable Energy Community Workshops (upcoming meetings in October)

• Next Meeting: The next regular meeting is scheduled for Tuesday, November 22, 2022 at 6:00 p.m. at the Makiki Christian Church and online via WebEx.

• lelo Broadcasts: Recordings of the meetings are broadcast on lelo 49 on the first and third Thursdays at 8:00 a.m. or 2:00 p.m., and every second Sunday at 6:00 p.m. Due to scheduling conflicts, upcoming broadcast will be on November 2, 2022 at 8:30 a.m. The full schedule is at https://olelo.org/tv-schedule/). Recordings may also be viewed at https://www.honolulu.gov/cms-nco-menu/site-nco-sitearticles/1657-board-meeting-video-archive.html

• Resolutions: Iwamoto commented on the large amount of resolutions passed by NB11 thanks to former Chair Tam.
ADJOURNMENT - As there was no further business before the Board, Chair Lee adjourned the meeting at 7:11 p.m.
Submitted by: Spencer Johnson, Neighborhood Assistant

Reviewed by: Dylan Whitsell, Deputy

Finalized by:
Featured Product/Service
<!998Template_start>
<!998Template_end>
---
Please send questions about this website to