Community website by MBC/Ernest Abrams. Call 808-739-9797 for advertising/sponsorship.
Kakaako - Honolulu, Hawaii
News Item

Holo Cards To Replace Paper Passes For Thebus Starting July 1, 2021
<!#43START>
HOLO cards to replace paper passes for TheBus starting July 1, 2021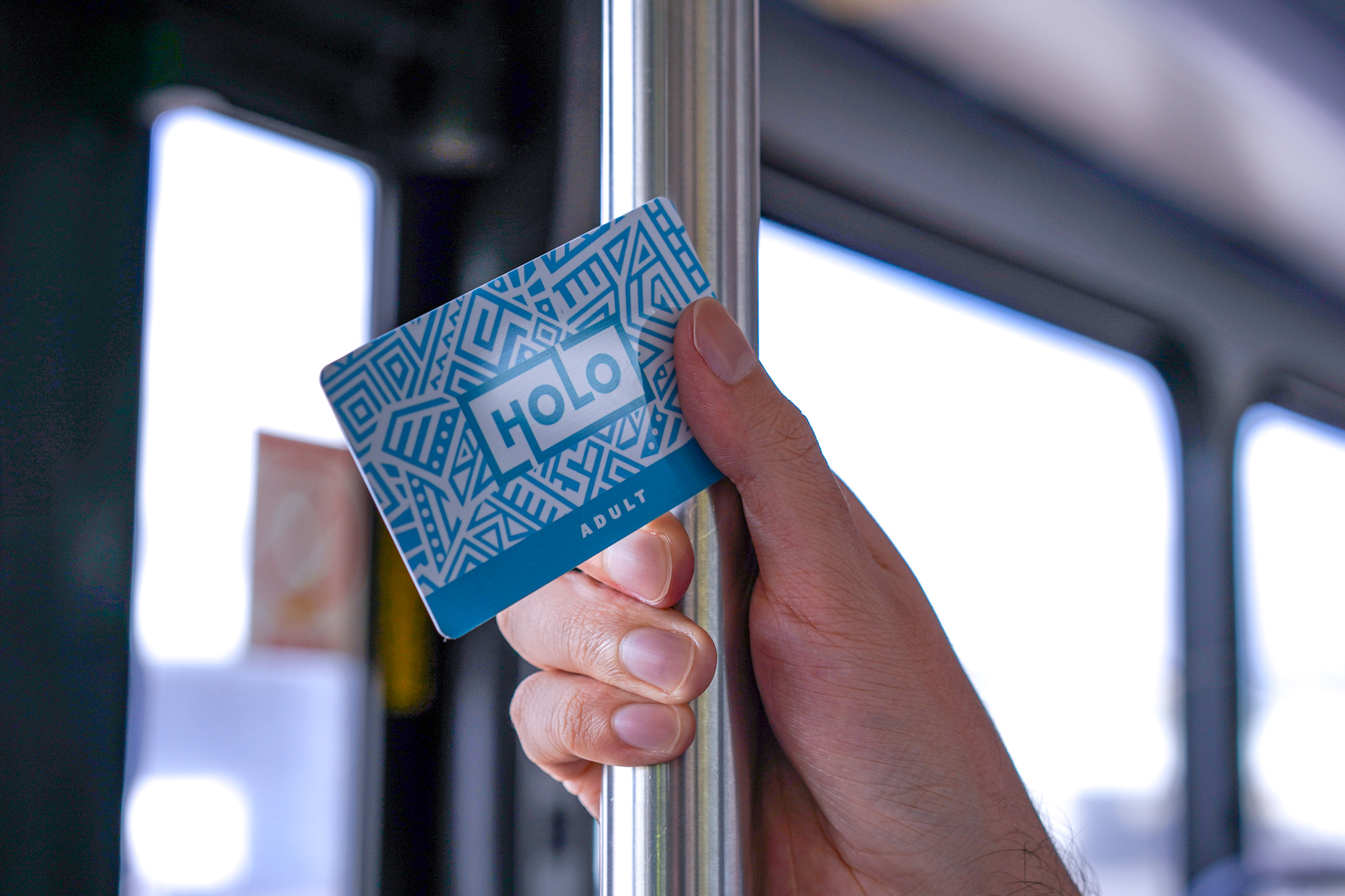 Rider with a HOLO card while onboard TheBus


HONOLULU - The City and County of Honolulu's Department of Transportation Services (DTS) is reminding the public that HOLO cards will be replacing paper TheBus passes starting next month. The HOLO card delivers added convenience for people who ride TheBus.

Starting July 1, 2021, paper Monthly TheBus Passes and the 1-Day Pass will no longer be available for purchase. Riders will instead need to have a HOLO electronic fare card with money or a pass loaded on the card. Expanded fare-capping will also be introduced on HOLO cards. Passengers will still have the option of paying with cash for one way trips only on TheBus.

The HOLO card functions as a fare payment method that is currently being used on TheBus. The card can be registered under the owner's name, and loaded with funds to pay for TheBus rides. The card can be loaded with funds online, TheBus Pass Office, or select retailers. A simple "tap" with the card on the card reader (located near TheBus drivers and fare box) lets the driver and rider know that they have paid and allowed to board TheBus. The convenience of a registered HOLO card account allows for balance protection against lost or stolen cards, reduces the need to keep track of paper passes, and can be automatically re-loaded when you run out of funds.

TheBus will discontinue the 1-Day Paper Pass on July 1st. In its place, the HOLO card is programmed with a daily fare-capping function, meaning no rider will be charged more than $5.50 for bus fares a day. For example, a rider with an Adult HOLO card who takes two bus rides will have $2.75 deducted from their card for each ride (a total of $5.50) and will not be charged a bus fare for any rides taken on the same day. Riders will need to use the same HOLO card and still need to tap their card when boarding for fare-capping.

TheBus will restore transfers when riders use their HOLO card starting July 1st. A rider may transfer from one bus to another without paying an additional fare during a 2.5-hour period following the initial tap of the HOLO card. The transfers will benefit riders who need to take two buses within the 2.5-hour time frame. Riders will need to use the same HOLO card and still need to tap their card when boarding for a transfer.

Expanded fare-capping will also be introduced on July 1st to not surpass the price of a monthly pass. Once a registered HOLO card has reached the monthly fare ($70 for adults) within the current month, the card will not be charged the rest of that month. This expanded fare-capping system will ensure that riders do not spend more than they would for a pass. Registered card holders will also still be able to purchase and load monthly passes when reloading their card. Riders will need to use the same HOLO card and still need to tap their card when boarding.

HOLO cards have been available to the public since late 2018 and have been a method of payment on TheBus since. However, riders that do not have a card are encouraged to obtain and familiarize themselves with it and the process prior to the July 1st transition. Adult HOLO cards can be picked up at local retailers or TheBus Pass Office (please view retailers list via
https://www.holocard.net/where-to-obtain-load-a-card/
). Adult HOLO cards can also be ordered online by registering an account. Senior, Disability, and Youth riders can apply for a reduced fare HOLO card at TheBus Pass Office at the Kalihi Transit Center (
www.thebus.org
for application requirements).

For more information about the HOLO card, please visit
www.holocard.net
or call (808) 768-4656. For more information on TheBus and reduced fare cards, visit
www.thebus.org
or call (808) 848-5555.

<!#43END>
Featured Product/Service
<!998Template_start>
<!998Template_end>
---
Please send questions about this website to